Triumph has unveiled another model in the Bonneville series. The new Speedmaster offers more than 130 original addons, which will allow us to build and customize the motorcycle as we like.
For inspiration, as it may seem, Triumph introduced two versions of Speedmaster, named Highway and Maverick.
Triumph seems to have been on a positive design wave. After last year's introduction of the Bobber retro machine, which quickly gained popularity for many customers because its appearance was and still is perfect, they introduced another model built on the basis of Bobber. This may already indicate that the Speedmaster will be powered by a liquid-cooled, parallel 1200cc twin cylinder, as successful as its neighbor.
However, Speedmaster is a bit different, not just in the style of a caffeine lover, who likes a casual cool style, but also conceptually. A rear underseat frame has been added to the original Bobber tube frame, which allows you to open up other optional motorcycle uses. Whether you load passenger or you use this space for the top suitcase. The saddle itself is deeper, softer and is 705 mm high, 15 mm higher than Bobber. The rider's feet were moved forward for comfort.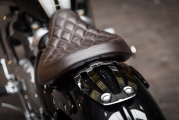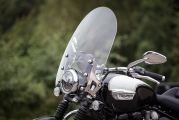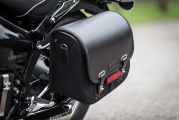 Also the fuel tank has changed, now it reaches 9.1 liters, which means 12 liters of gasoline, and this reduces the refuel station's visit time so you can enjoy more miles in the comfortable Speedmaster seat. The front headlight is equipped with LED technology and is not the only modern thing from this era. Motorcycles have received several electronic aids such as cruise control, ABS, traction control, preset driving modes or electronic gas.
The Triumph Speedmaster features a 41 mm front KYB fork, rear adjustable monoshock also from KYB. Stoping this 245.5kg heavy machine is the job of two front 310mm blades. With a Brembo double-breather wheel that stops 16 inches and rear 255mm single disc with one-way Nissin.
Customization:
You can afford the motorcycle thanks to more than 130 original accessories or even reach the already finished pieces. Two inspirational versions are offered. The Highway model features an adjustable plexiglass, a more comfortable leather seat. Plus backrest for the front passenger, carry case and plenty of chrome accessories. The Maverick version, is closer to Bobber with its low-level handlebars, Vance & Hines black damping and other gray-black details.
Triumph has not yet announced price. But it should be available for sale on March 1 next year in colours of Jet Black, Red-black Cranberry Red. And Jet Black in White Fusion White and Phantom Black along with hand-painted lines. That appeal to modern and even classic style.